Just take a moment and calculate the time percentage that you use mails every day. Mails are used for professional communication and they are even safe and efficient options for day-to-day transactions of files. However, there can be times when you encounter SMTP error 535 authentications failed while using mail service. Authentication failed means the mail server rejects mail and shows a 535 error. To send mail, the mail client uses SMTP i.e., simple mail transfer protocol.
If you have come this far then we assume that you have encountered this error situation. Don't worry we are here to guide you through every step to solve this error.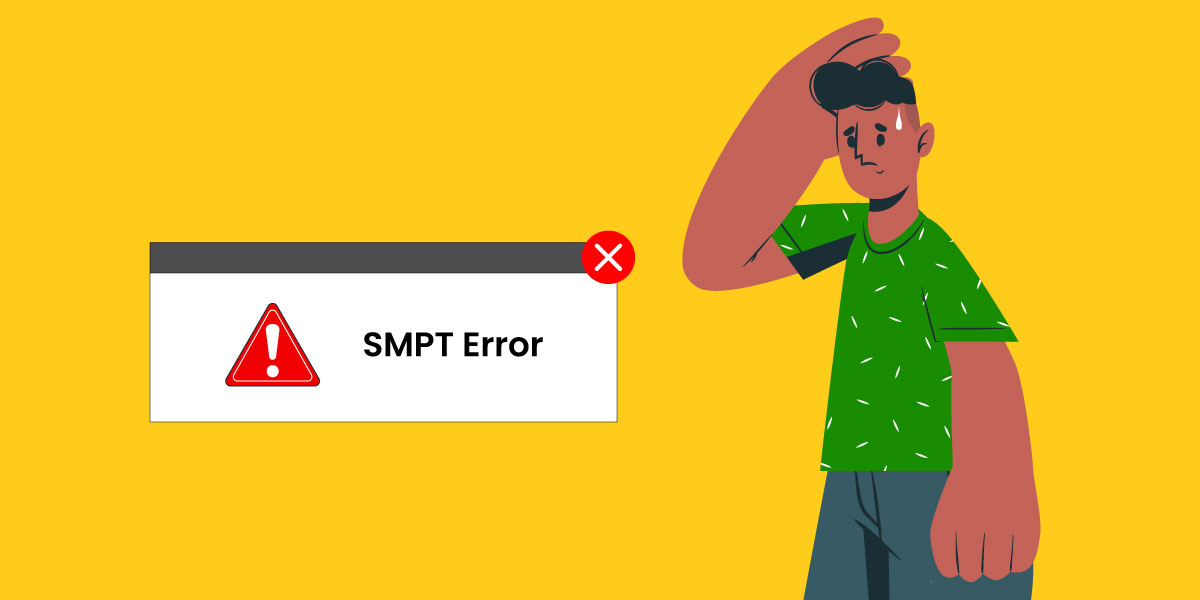 Definition of SMTP authentication
It is a process in which ISP clients verify their identity with the receiver's mail server.
However, it's not feasible for everyone to send emails through the mail server as the mail servers allow only genuine users to compose emails.
How does it work?
When a mail user hits the send option to send mail, the user's mail client i.e., Outlook, Thunderbird, etc., verifies itself with the email server by verifying the email account information such as username and password.
Now, if the credentials are found to be valid, the sender's email gets accepted, then preceded to the specific recipient.. And if the authentication fails, then the user's mail client shows a particular message of SMTP server authentication failed for the users.
Causes of SMTP error
There are some of the common reasons why users get SMTP errors while they use mailing services. Here are the reasons:
When the user enters incorrect login credentials, the mail server shows error 535. Apart from that, if you use the wrong mail server then it can also lead to authentication failure.
However, these mismatches with credentials will get recorded in the email server log files. So, this helps to find the particular mail account which is actually creating problems.
The other cause of 535 incorrect authentication data errors is connection encryption. You need to allow the connection encrypted for some servers with SSL, i.e, Secure Socket Layer or TLS, meaning Transport Layer Security. You may have disabled this particular option which actually will lead you to an SMTP error message.
The other reason that you get a 535 authentication failed 5.7 1 code 535 is the authentication method. So, if you are using the authentication methods that are not supported by the mail server then this error can pop up.
To solve the expired IP -based authentication, you would need to check your account status. However, IP-based authentication error is known to be a rare reason that leads to 535 errors.
Check if you haven't turned off the SMTP authentication, it will also create error 535. So, make sure that you turn on the SMTP authentication.
There might be many issues such as spamming and payment dues which will leave your account permanently or temporarily disabled. A disabled account can be the reason for the 535 authentication failed message. So, you must check your account if it is active by checking up on your account status. You also have the option to connect with the technical support team for serious issues.
To avoid failing to authenticate on the SMTP server with a username error, you would need to show SMTP correctly. Let's get to know this in the next section.
The solution to error SMTP 535
There are different ways to solve this error. But before you get started to solve the issue here are some points that you need to follow:
First thing first, you need to log in to your control panel and then go to check the account status. However, if your account has any issues you will get a notification regarding this.

Now, cross-check the username and password used to log in with the mail server. It is advised that you make your username and password more secure and also remember them for future login sessions.

Then, block the IP address that is consistently trying to log into your account. Now checking the IP address through the server's firewall, you have the power to prevent those attempts to log in again.

Next, head on to enable the SMTP authentication with the server-side and client-side as well.
Now let's move ahead to know about the different methods to solve 535 authentications failed 6.7 1 code 535.
Method 1 –
Authorize SMTP in cPanel
We are going to be discussing the steps to enable the SMTP authorization in the cPanel server.
Authentication of the SMTP in cPanel allows you to send messages through POP prior to SMTP. So, once the mail client downloads the mail, it is not needed to authenticate every time to send mail via SMTP.
To solve the SMTP error 535 authentication failed, you would need to enable the SMTP authentication. By default the SMTP authentication will be disabled in Web Host Manager. For easy enabling of SMTP authentication, here are the steps you need to follow:
Step 1- Go to WHM
Step 2- Go to the service configuration
Step 3- Then head on to the Service manager
Step 4- Now select the Antirelayd checkbox.
If you are still facing the issue, then make sure to follow the next way to solve SMTP server authentication failure easily.
Method 2-
Authorize SMTP authentication in Mozilla Thunderbird
Here are the steps you have to follow:
Step 1- Go to the tools section present in account settings and then navigate to outgoing server in Thunderbird SMTP.
Step 2: Now when you are into the outgoing server, you need to select it and then go to the edit button.
Step 3- Now go to the account details section where we enter the username, password available under security and authentication.
Step 4- Then enter your email account username and password then click ok.
Using these steps, if you are still facing 535 incorrect authentication data errors then jump to the next method.
Method 3
– Validate SMTP Authentication in the Plesk server
So, with this method, you need to follow these steps:
Step 1- Use your credentials to log in within the Plesk panel.
Step 2- Head on to the Tools and Settings then go to the mail server settings. Now move forward to mail server settings, then go to enable SMTP service on port 587.
Most probably, you would not get the issue of failed to authenticate on SMTP server with username anymore and your problem will be solved.
So, with this post, we have provided different methods to solve the SMTP error 535.
And we also got to know about the general terms of SMTP. Hence, some common conditions that lead to this error are incorrect password and username or disabled account as well. Hope these methods help to solve your side of the issue for the SMTP error.
Do try these methods and tell us if they worked in your favor.