E-mail is one of the crucial things that we use during our working hours, don't we? It's easy to send emails from the sender's end to the receiver's end. However, there are times when you might encounter some errors while trying to send mail. One of those errors you might come across is 550 failure sending mail error. If you are also here to get the solution to this problem then make sure to follow this blog till the end. Today, we are going to discuss this issue in detail. So, let's get started.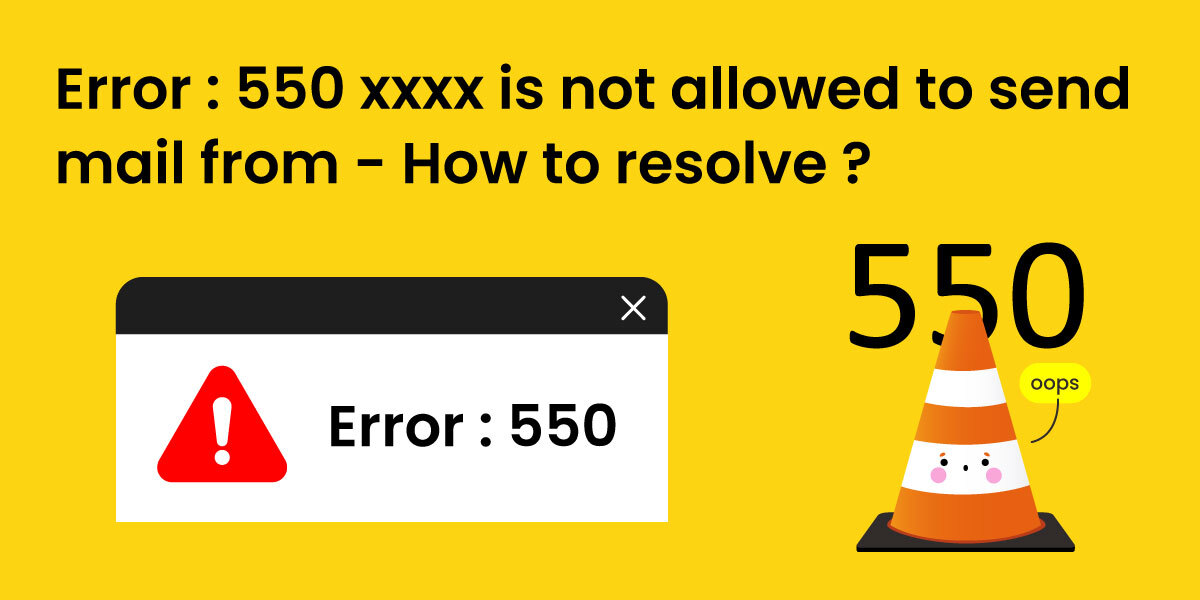 What does 550 envelope blocked mean?
This error simply indicates that the email server that you are currently using requires SMTP authentication, then only you can send mail to another account. In addition, the email client that you are using has not been authenticated with your username and password. However, it is an easy and smooth process to solve this error.
So, do read this blog till the end.
What xxxx is not allowed to send mail from mean?
This is an email bounce error that occurs because the sender's IP address does not match the IPs in the sender policy framework (SPF) records of the receiving server which can also mean 'envelope from address not accepted by the server', and hence the error.
How to fix the email delivery problem?
When you are having email delivery issues you must consider a couple of things. However, the basic things to do to solve the email delivery problem are:
Step 1- Is there actually any email delivery issue? Check the email reporting and analytics section.
Step 2- Make sure to check out servers and IPs as well.
Step 3- Now Analyze the email content.
Step 4- Implement Email sending practice.
What is meant by locally blacklisted?
When you are getting the error 550 failure sending mail or blocked, It points to the email message being blocked by the spam filters. However, this error actually occurred because of your email domain available in the Realtime Blackhole List (RBL).
When you are getting such an error – 550 rejected by a header-based manually blocked senders, then, block sender policies have been applied. Due to that, the email gets rejected on the basis of the envelope from or a header from that address being blocked. You can try to delete or change the blocked sender's policy.
Why are my emails not getting delivered?
When your sent emails are not getting delivered to a recipient, there might be several reasons. One of the reasons can be that email was marked as spam by the email provider, so, the recipient mail server has blocked the sender email provider, and sending mail server is listed on the blacklist
What is an SPF record in DNS?
An SPF TXT record or SPF record is defined as a record that is a part of your domain DNS. Now, this is nothing but similar to a DMARC record. It even has a list of all IP addresses which are allowed to send an email by the side of your domain.
How to fix error 550 in Gmail?
Step 1- Check if there are mistakes in the email address.
Step 2- Check if the email IP is blacklisted.
Step 3- Rest and try to send the email after some time.
Step 4- Make sure to change  your outgoing mail port.
Step 5- Check if you have enabled IP filtering.
Step 6- Now enable SMTP authentication.
Step 7- Now troubleshoot the SSL method.
Step 8- Now contact your ISP.
So these were the steps to solve the error of 550 failure sending mail easily.
How to fix 550 high-risk spam?
Step 1- There is a high probability of spam, try to reduce it.
Step 2- Watch out and reduce the number of emails sent in a day.
Step 3- Make sure that your entered email recipient doesn't seem like spam.
Step 4- Finally verify that the DNS security settings are working properly.
These steps will help you to solve the risk of spam mail problem.
So, these were some of the points to help you solve the email sending failure-related issues. Hope they work for you and if you have any queries make sure to tell us through comments.