Instead of PCs and laptops, people are using smartphones these days for receiving and sending emails. But while sending, if the server does not allow it, then you will come across the "Email address rejected by server" error.
This error is mostly seen while sending emails from apple devices i.e., iPhones, iPads, etc. Here we will see the causes of this error and the steps to resolve the error email recipient rejected by server in detail.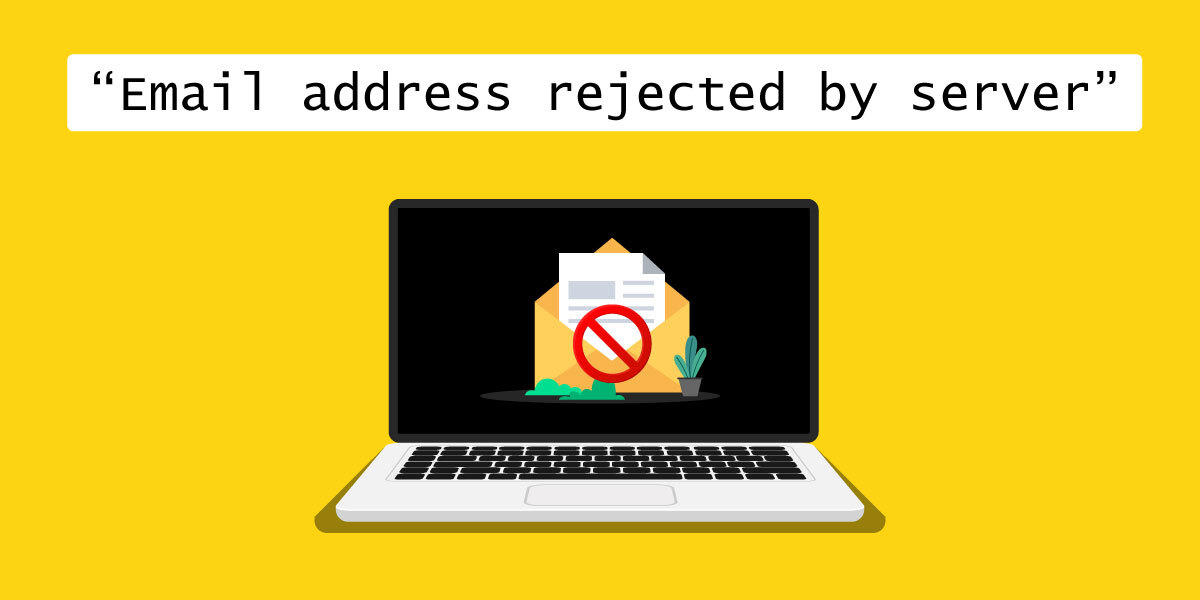 When do you come across this "Email address rejected by server" error?
As Apple devices come with inbuilt iCloud backup, users mostly backup their device settings and restore them whenever needed. While backups work fine in most cases, some iPhone and iPad users reported getting this issue while sending emails in particular after a backup restore is done.
Customers actually reported this issue only while sending emails but not while downloading emails to their mobile devices.
Causes of "Email address rejected by server" error:
Following are some of the causes why the server rejected the sender address:
Inaccurate email settings:
The main cause of 'Email address rejected by server' error in iPhone or iPad is the inaccurate email server settings. These include SMTP server off, wrong SMTP ports, incorrect mail server name, SSL authentication ports turned off, etc.
iPhone usually shows the error "Cannot send email! The recipient was rejected by the server because it does not allow relaying" when it is not able to connect to the email server at the specified port. While configuring emails on iPhone, users need to specify the account associated with outgoing and incoming mail servers along with usernames and passwords. As outgoing mail server details are mentioned as optional in iPhone settings, users usually do not prefer specifying those details.
Entering Incorrect Password:
Regular password changes are compulsory to secure your email account. But sometimes users forget to specify the changed password details in their mail server settings. This actually leads to email errors when accounts are re-configured or deleted or migrated from one device to the other.
Mail server configuration and Firewall settings:
It happens when the mail server is accepting connections to its SMTP port.
Bugs in software updates:
iOS releases software updates periodically for its mobile devices. Some of the updated versions have bugs that actually lead to email delivery errors.
Inadequate information:
When we change our mobile device, we usually restore and backup the whole data available in our old device. During that time, some data will not be copied, for example, an email password. In such a case, we need to re-configure the account. It can be done by following the below procedure:
Go to Settings, Mail, Contacts, Calendars, and Select Account name. Next, go to the 'Outgoing Mail Server' heading, tap on SMTP, and then Primary Server. Here, try entering the adequate email account and password details. By doing so, your account will be configured with the correct login credentials.
How to resolve the "email address rejected by server" error in iPhones/iPads?
The initial thing to do for fixing this error is by checking the parameters of email settings in the device such as email username and password, SMTP port, SSL support, and incoming and outgoing mail server details.
Here are the steps to update mail settings on iPhone/iPad:
      Go to settings, then Mail account settings

      Select the 'Outgoing Mail Server' section in account settings and click on 'SMTP'

      Next tap on 'ON' and enable the Primary Server. Enter the Username and Password under Outgoing Mail Server

      For the SSL settings, turn ON 'Use SSL'. The port for SSL is 465 or 25.

      Save the settings performed by clicking on the 'DONE' button available at the top right corner.
And after performing these steps, the mails should work fine without showing any error pop-ups.
Even after the device settings are done, you get this error, then it may be due to internet connectivity issues or the mail server issues. In such cases, we need to check if there are any routing mistakes, configuration errors, firewall blocks, and DNS issues that are causing these flaws in the mail server and try fixing them.
Final Conclusion :
IPhone users can understand the causes and quickly resolve the "email address rejected by server" issue with the help of this blog. However, if the issue persists, you can contact our server management support team.