Is your system crashing with a "530 login authentication failed" error?
Relax!
In our area of website support, our engineers manage FTP servers and solve all the related errors. Users generally encounter FTP error 530 and look for help to fix it. And we help them to fix it quickly.
Let's first understand what this "530 login authentication failed error" is?
We know that FTP is a very easy platform to exchange data, files, and folders. This is very popular among users to download data or files from the server. But sometimes, you get hit with the "530 login authentication failed" error that does not allow you to connect to the server.
So, the question arises, why did we get this error?
Usually, the FTP error 530 occurs due to an incorrect username and password. Here, the FTP server is unable to recognize FTP users' login detail credibility and triggers this error. It sounds like a simple mistake but demonstrates a tricky error.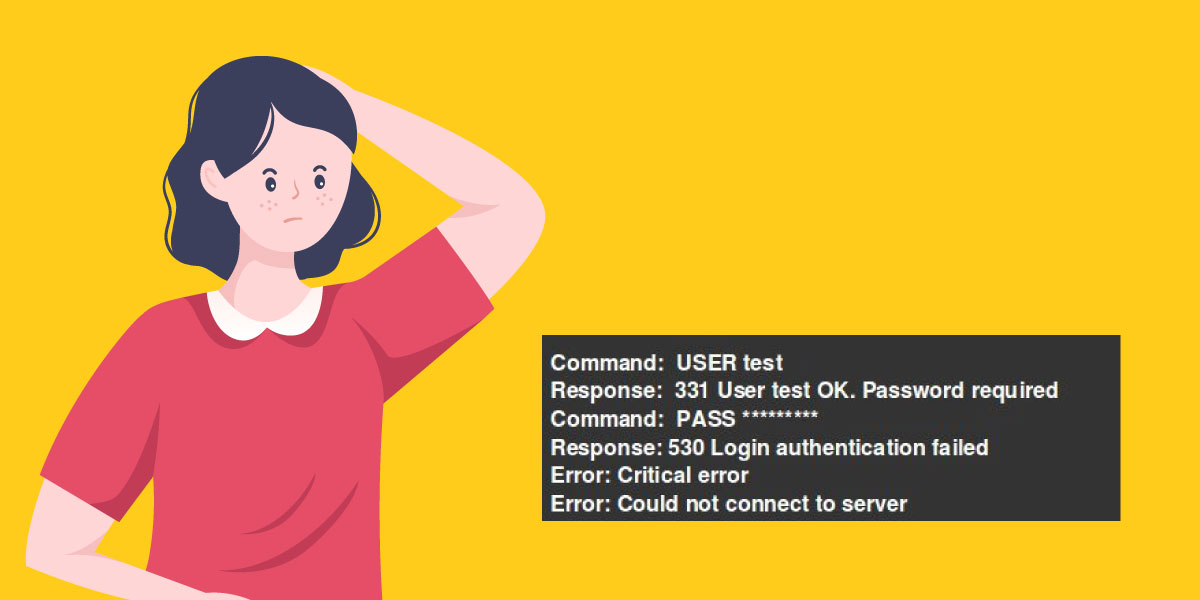 What are the causes of "530 Login authentication failed" error?
I hope you understand that this error usually appears when FTP attempts to connect to a server by entering login credentials that are incorrect. This could be a minor mistake by a user but can puzzle your mind.
As a user, you will surely experience this FTP error 530 many times. When we dive more, we discover two main reasons why we are hit by this "530 login authentication failed" error. Below we will discuss those errors' causes.
Use of Incorrect Login Details 
Using incorrect login details by the user for FTP server access, including username and password, is a major reason for encountering FTP error 530. If the user credential is not reachable or given wrongly to the server, it will surely show you a 530 login failure error.
Now, try to learn those terms technically. You are probably aware that each domain has its own cPanel, with its own username and password.
By default, the "user name" is the FTP login detail. For any other FTP user account, username@domain.com is the format for the FTP login name. If the user name is not specified in the correct format, a login failure will happen.
Additionally, the 530 login authentication failed error can also happen due to an incorrect password. Remember that a single space in your password can result in a login failed error.
Corruption in Password Database 
Pure-FTP stores user passwords in an encrypted form as an MD5 string in its database. Any changes or updates to the FTP server or cPanel may corrupt the entire database. Due to this, when the password database crashes, it will lead to several server issues. Corruption in password databases can be a bigger issue than entering an incorrect username or password. In such a situation, every FTP user who tries to log in to the server will end up seeing this "530 login authentication failed" error.
Ways to Resolve the "530 Login authentication failed" Error 
It is now common that multiple users are struggling with this 530 login authentication failed error.
Here, we get an understanding of how to fix this FTP error 530.
To establish a successful connection with the FTP server, every user must be careful while entering their username and password. The details should be correct in FTP. If the password is not working correctly, don't be afraid to change or reset the password. It will not have any effect on your data files. All your data is in the same pattern.
Second, if the login fails and you know you entered a valid username and password, the error can be due to password database corruption. Then, you must perform some action across the server. For this,
Sync FTP password manually. This will update the crashed password in a good way.

Forcefully sync FTP password, then switch back; it recovers the password database.
So, by using the above-mentioned tips and tricks, you can easily resolve this error.
Conclusion 
We hope that the information in this post will help you to understand the "530 login authentication failed" error, the reason behind it, whether the incorrect username or password corruption, and also the way to fix it fast and appropriately.
Still, if your work is suffering as a result of the error, you already know what to do next. Contact our experienced technical team immediately and leave the rest of the problem to them. They are experts at resolving any kind of server error. Good Luck!